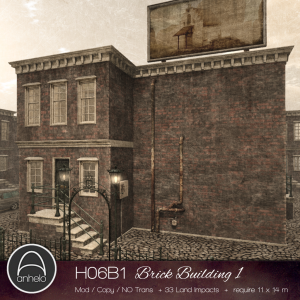 H06B1 / M26E1 / M26E2
---
release

Dec. 5, 2016

press event

category

structure / decor

size

11 x 14 m

land impacts

33

permissions

Mod / Copy / NO Trans

status

25 - 40% OFF @ TMD

marketplace

N/A
[press release] for The Mens Dept Dec.
new release

press event

period

December 5 - 31

LM

AD

remarks

25 - 40% OFF @ TMD
notes for bloggers
for official blogger
Was there something wrong with receiving or need some older products? Come and get at

blogger room

.

When you need other products,

contact me

. I'll send you soon!!
anhelo plans for the future
other materials