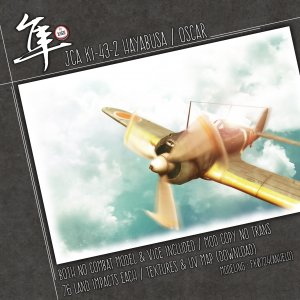 J.C.A Ki-43-2
---
subtitle

—

release

February 18, 2017

press event

category

airplane

size

—

land impacts

76

permissions

mod / copy / NO trans

status

20% OFF @ CCB

marketplace

N/A
[press release] for CCB9
new release

press event

period

Feb.18 - Mar.18

LM

AD

remarks

20% OFF @ CCB
notes for bloggers
This is Collaboration Product. After this event ends, JCA undertakes sales and after-sales service.
Blogger Pack doesn't have products. They are NON-SCRIPTING(Decoration only). When you blog, please write credit as follows…
J.C.A Ki-43-2 (JCA with anhelo)
If you want to try regular items and write review, please contact me.
業務の効率化のため、公式情報は英語のみでご案内しております。ご不明な点がございましたらご遠慮なくお問い合わせください。
for official blogger
Was there something wrong with receiving or need some older products? Come and get at

blogger room

.

When you need other products,

contact me

. I'll send you soon!!
other materials