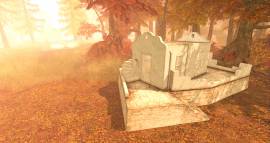 H01EC
---
H01EC - l'atelier de l'écrivain
H01EC is a structure having small plaster cottage on its base. It is similar to H01MZ - l'atelier de l'eau but the following points are different from.
All textures are re-baked.

The base doesn't look like a ship and doesn't have wooden pier.

The door is smaller, painted in white, and has emboss windowpane.

The window frames is also painted in white and have emboss windowpanes.

The top of the cottage is not grassy ground but stone pavement.
remarks
related products
M series
---
external links
gallery (via flickr)
other products