M55 - postman motorcycle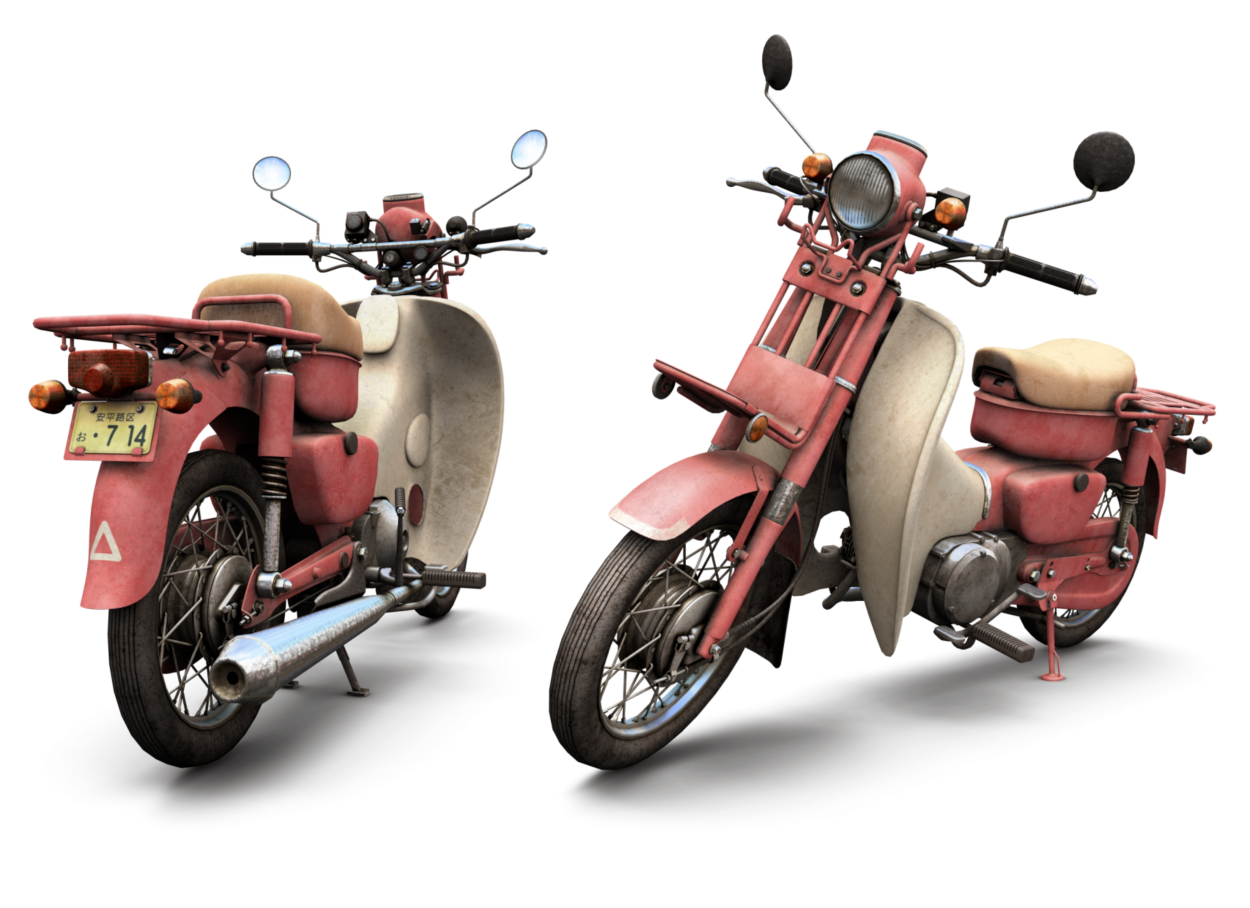 M55 is a motorcycle used for mail delivery in Japan, called "MD90"
MD90 is not sold to the public, and many of disposal from the post offices are exported mainly to countries such as Southeast Asia to reuse. Only a few leftovers in Japan are traded at high prices among manias.
It seems that there are various differences depending on the model year. I think that my details are not accurate because I do not have much documents. As far as I can see, this is a pre-1998 model.
M55 Features
M55 is for decor only. It does not drive by itself. But I am developing a driving system for M55. I will announce the optional driving kit before long. Do you want to know the latest development status? See my twitter.
Dialog Operations
You can do some operations from the dialog 1).
Main Menu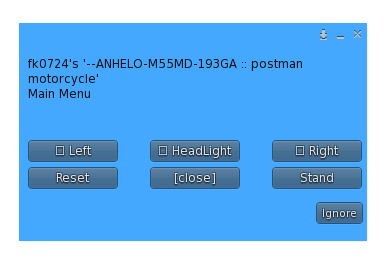 Stand Menu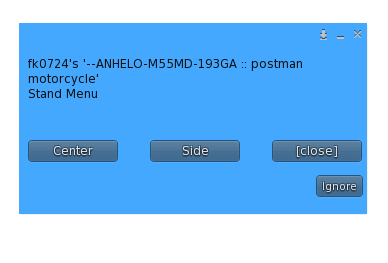 Left … Left blinker on / off

HeadLight … Headlight on / off

Right … Right blinker on / off

Reset … Restore its size to initial state — M55 works properly even after resized

[close] … Dialog closes

Stand … Change the status of the stand

Center … Hold the motorcycle using the center stand

Side … Hold the motorcycle using the side stand
Number plate customization
1,024 x 1,024 pixels blank texture is included to facilitate image processing. However, 512 x 512 pixels is enough for in-world. It is good to reduce before uploading. Make your own plate!
If you generate normal map — ex) NormalMap-Online, I recommend that 1,024 pixels.
BONUS ITEM for Uber March, 2019
Overview
This is an add-on that enables pose shooting with M55.
How to install --- Easy! Just Link
Completed!
You do not see your box now. That is success. Let's sit on!
Both BENTO and Classic avatars

Resize the motorcycle

if it is difficult to adjust the position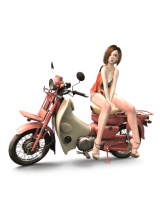 Resting 2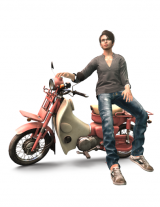 Resting 1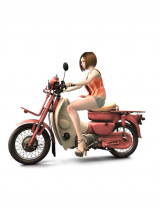 Driving 2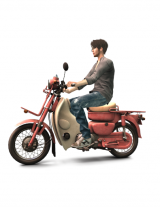 Driving 1
Future Plans
AnalogMatic - optional driving kit
Optional Add-On Luggages
Some people would like to drive with loading some luggages on the careers. In this motorcycle, the handlebar and front fork rotate. Also the front and rear suspensions move. Therefore, simply linking the objects will shift the position during driving. I plan to release optional parts that move following the movement of the motorcycle.
In addition, I will also present some scripts that you can link your own objects on your motorcycle.
Extra Poses, props and attachments
There is the possibility of releasing additional poses. It is also possible to include props and attachments as in F01 - la voiture de grand-pere.
This is an aside…
In the past, I thought about adding some poses to F01 later. However, because F01 incorporated poses directly into the vehicle body, it was difficult to add extra poses after releasing. This time I separated the motorcycle body and the posing system in order to enable adding later.
Now, do you want something for M55? Please tell me the scene you want to shoot.
other products